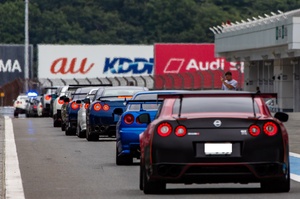 Saturday 14th September 2019, Toprank Japan joined, the biggest GT-R event of the year. This meeting is the place to be if you are looking to see one of the best Nissan GT-R's in the globe. From the parking lot to the main event place you will see very beautiful and unique collection of cars. And for us the only way to go to Fuji Speedway from Tokyo would be with a Nissan R34 GT-R !
So we took one of the nicest R34 GT-R that we have in stock. (Skyline R34 GTR for sale) And if you wonder, this Nissan skyline R34 GTR is still for sale at the moment I am writing this.

We started to go early in the morning from Tokyo to Fuji Speedway just next to the Mount Fuji, the trip with all the traffic jam even on a Saturday morning took around 2 hours.
You know that you drive to the correct direction when you are driving along other Nissan Skyline GT-R.
After 3 hours on the Japanese highway, and 20 minutes in narrow country side roads, very typical in Japan. We finally arrived at the Fuji Speedway.
We are heading directly to the parking lot and it is for sure the GT-R paradise.
The parking lot is worth spending your time there too. There are many beautiful Skyline GT-R, you can see how their owner decided to personalize their cars too.
Which color do you want on your R34 GT-R ? You can see here this 2 options.

In a section of the parking, some very beautiful Hakosuka gathered together ! Their conditions are incredible and are quite similar to the Hakosuka we have in stock. (Hakosuka for sale)
Now after spending some time in the parking lot, we are heading to the main event. There are booths of well known maker and aftermarket parts companies.
GT-R for father and son ?
Here, is the GT-R for mother and daughter ?
At this event I was able to see so many rare and awesome setups for R32 GT-R, R33 GT-R R34 GT-R, GTR's etc...
There is also a very rare and in great condition Nismo 400R, with the RBX-GT2 engine engineered and designed by REIMAX. There were only 44 units of 400R that was produced !
If you are more into the classic GT-R, You will be pleased to be able to have a closer look on the Hakosuka or Kenmari.
Nevertheless, the Nissan Skyline GT-R was also designed to win races and that's how it got its famous nickname "Godzilla".
This R34 GT-R was completely modified to perform the best on the tracks, from the engine room to the interior and body kit. I hope we will get a customer that is going to bring his GT-R to tracks and ask us to do all the modification. Toprank workshop in Japan has many skillful mechanics ready to help you with your projects. Toprank can build your machine on your taste and get you the car the way you want. Did you grab some ideas here?
This is one of 188 R33 GT-R LM limited, I am very happy to finally see it in real life. The body kit does really change the style and perception that we can have of a car.
Many booths were also selling goodies, toys, t-shirts and products related to GT-R. I don't know which one I prefer between a GT-R toast and a Nismo soy sauce holder. Do not forget to bring cash, most of the shops are not taking credit cards.
There are many food stands to eat and rest. We just took some Fuji yakisoba and headed to the tracks to watch all the GT-R racing on the circuit. You can hear the cars from the food stand and you already know where you want to sit while eating!
The bleachers are not crowded so you can sit wherever you want to. I would say that higher is better to have a clear view on the cars when they hit that straight line. The GT-Rs are easily driving over 200km/h and the sound they make are just amazing.
Those Nissan Skyline GT-R looked amazing from above but at this event, we have free access to the paddock. And from there I could see GT-Rs speeding over 200km/h at less than 5 meters from me. At this event I think the faster car that I saw was without doubt the "Godzilla" Skyline R32 GT-R.
This event is really made for GT-R fans and you should really go there when you plan your visit to Japan. It was nice meeting and talking with people there. Everyone was helpful and kind, the atmosphere was really nice. I hope to see more of you at next year's R'S meeting. I can tell you that spending 6 hours in the R34 GT-R was a real pleasure and this car is a great daily drive and has the potential to win races on the weekends but also it is a very comfortable car to drive and enjoy at the same time.
If all those pictures made you want to buy a Nissan Skyline GT-R, please have a look to our JDM cars inventory. We have many Nissan Skyline GTR for sale, and we are always looking to get new R32, R33 and R34 GTR.