Step 1

Registration & Deposit
Please create your TOPRANK System (TRS) account. Your e-mail address will be your user name. When paying the deposit, please also remember to indicate your customer ID in the payment instructions. This helps us identify that we have received your deposit.
Until we receive your deposit, your account will be limited and you will not be able to make online bids.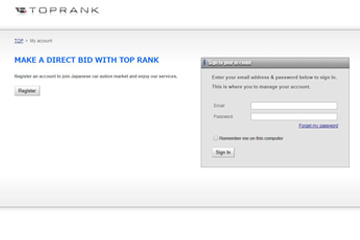 Step 2

Select Vehicles & Make Bids
You can filter search results by manufacturer, model, chassis code, registration year (could be different from the actual manufacture year), engine displacement, or lot number. Use the "Bid" function to type your bid amount for the selected vehicles.
* Vehicle modification or customization to fit your style or realize better performance is also available. Please do not hesitate to contact us (Service availability is depending on manufacturer, model, code, country of origin/destination, manufacture year or any other conditions. Please contact us for more detail).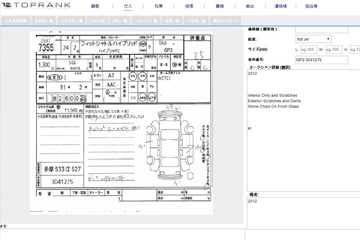 Please note that we primarily accept payments by wire transfer. We do not accept web-money / Kiwi / PayPal etc.
Our account is in Japanese Yen, so we recommend that customers make payments in Japanese Yen. If you use another currency, our bank will automatically change the payment to Japanese Yen using the bank's exchange rate on the day of the transaction. Please note that a conversion cost of approximately JPY 1,500 will be charged for payments made in US dollars. (Please contact us for details on other currencies.)
* TOPRANK accepts letters of credit (L/C) from some countries. Please contact us for details.
* Payment terms may differ from country to country, so please contact us for details.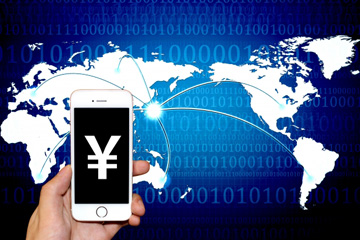 Step 4

Preparation and Shipment
After we have confirmed your payment;
1)    You will receive the shipping schedule, a copy of the bills of lading (B/L), and other required documents.
2)    We will begin the process of exporting your purchase promptly and surely (e.g. vessel arrangements, processing documents, and maintenance and so on).
* We will notify you of the departure and arrival dates and the vessel name after the details have been arranged.
After the vessel has left port, we will provide you with the documents for receiving your vehicle(s). Please keep them in a safe place until your purchase has arrived.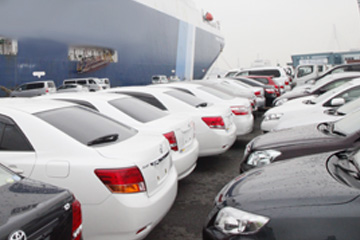 If you have any questions please submit them below and one of our representatives will contact you shortly.
Contact Details