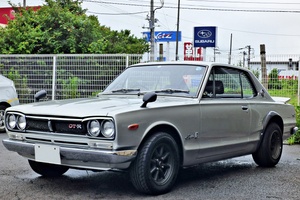 The Nissan Skyline 2000 GT-R, is the first GTR. Its nickname Hakosuka named after its "box (in Japanese 'Hako')" like looks and combined with the Japanese pronunciation of "Skyline (Suka)".
This GTR have two versions, the PGC10 as a sedan and the KPGC10 as a coupe.
This GT-R has a straight-six engine, S20, that will deliver up to 160hp at 7000rpm.
The interior is very beautiful with wood trim on the dashboard and leather bucket seats.
The Hakosuka is the ancestor of the famous R32 GTR or R34 GTR, but this car already won its own share of competition at its period.
This is a real piece of collection, less than 2,000 units of PGC and KPGC10 combined were produced. And even less are now, after almost half a century in a good condition.
Toprank is selling now this rare piece of Skyline GTR history. The car is in good condition, and can still show to the younger generation of to win a race.
We have the recent car's maintenance records, and the car just passed the Japanese "Shaken" motor vehicle inspection in July 2019.
Follow this link to check the 1971 Hakosuka.
https://toprankglobal.jp/stockdetail/15184
Please feel free to contact us
Email trade@toprank.jp
See Contact detail >> Click here
See Our team & various contact method >> Click here