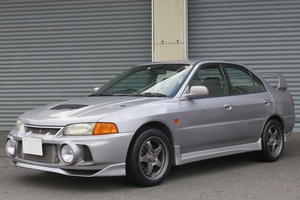 The Lancer Evo IV was produced from August 1996, with a complete change of platform from the previous Lancer Evolution. Mitsubishi's new Active Yaw Control (AYC) was also unveiled for this new generation. The car comes with a 5 speed manual transmission and a 2.0 L 4G63T I4 Turbocharged engine. The engine generate 280ps, 36.0 kg.m
The AYC will manage the torque applied to the left and right wheel giving the force to change the vehicle's direction without turning the steering wheel. This active system makes the car safer to drive and turn on wet roads.

The AYC is a huge improvement allowing the car to take a sharper turn at the same speed.
You can enjoy watching some old school videos about this vehicle's performance. See the links below.

Ebisu circuit in 1996 with Keiichi Tsuchiya as driver
RX7-RZIII : 1'07"82
Lancer RS Evo IV : 1'08"28
R33 GT-R : 1'08"74
Lancer GSR Evo III : 1'10"70
Impreza STI ver2 : 1'11"22

On Tsukuba circuit under the snow in 1998
1 Lancer RS Evo V(Lo) : 1'10"91
2 Lancer GSR Evo V : 1'11"04
3 Lancer RS Evo V(Hi) 1'12"03
4 Impreza WRX type R 1'14"48
5 Lancer GSR Evo IV : 1'13"34
6 R33 GT-R Autech : 1'14"36
7 R33 GT-R Vspec 1'13"72
8 NSX type S-ZERO : 1'14"54

Lancer Evolution improved their model at each generation, but buying a classic JDM car is not only about buying a car only for its performance, but also about aesthetic, history and personal preference.
Let us know which is your favorite Lancer Evo and tell us why you'd love it to buy it !
Toprank Global is your international vehicle dealer for importing and exporting cars. Toprank based in Japan will locate and ship your dream car from and to anywhere in the world. Local laws vary please contact us for more information. Call Toprank Global at (+81) 3-6222-8388 or trade@toprank.jp
Find your dream vehicle