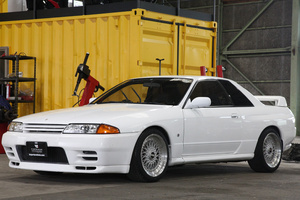 The well-known
1993 Nissan SKYLINE GT-R
is now available at TOPRANK.
Thanks to the replacement of such vitally important for vehicle's performance parts as timing belt, water pump, rocker cover gasket, camshaft and crankshaft oil seals, you will be definitely able to enjoy a safe drive with Nissan SKYLINE GT-R. Moreover, its brand-new adjustable coilovers from TEIN suspension will make your drive as enjoyable as never before.
This vehicle is so well-maintained that you will easily forget its model year and mileage, and its clean interior and exterior, as well as BBS alloy wheels, which fit perfectly with its white body, complete this fabulous vehicle.
Please feel free to contact us by email or see various contact method >> Click Here
Find more detail >> Click Here