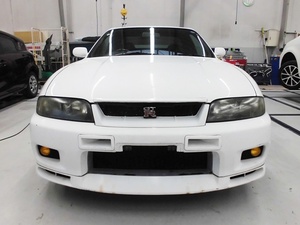 This is Toprank's Auto Technical Base bodywork's garage in Chiba, Japan.
We have done R33 GT-R bodywork and whole paint at our State-of-art facility, let's look at the detail of work. To recover the Skyline R33 GT-R to its original state, the car will be completely repainted with the same color code.
​​


Look at the body condition, bumpers have lost shininess. There are also scratches and cracks on the spoilers which in 25-year-old car can be common.

On the left rear quarter panel, the top coat has been removed after deterioration over time.

Some rust is also noticeable.


Working time !
First, the external body parts are removed, front and rear bumper, splitter and side skirts.

Next step is the repair work. Small scratches and dents are repaired.
Putty is used to reshape deformations, but before that we make sure the surface is cleaned and treated properly.
Doing a good groundwork will make a big difference in quality after the paint. At Toprank we put attention to the details.


Also rusted surfaces have been treated.
After applying the primer-surfacer, we start painting.
Next steps are going to be for the next News And Topics ! Don't miss it!