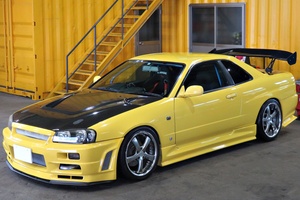 We have a 1998 August Skyline R34 GTT for sale, and it has been nicely modified. The car has a full GTR style body kit, aftermarket bonnet and trunk lid. With the prominent GT wing, everything fits well your car won' t be unnoticed.
However, the interesting points of this car reside under the bonnet, in the engine bay.
See below the mods list:

ENGINE ROOM
-HKS Muffler
-GP Sports Catalyzer
-HPI Radiator
-HPI Suction Pipe
-HPI Intercooler (Brand New)
-Cusco Oil Catch Tank
-Aftermarket Air Cleaner
-Aftermarket Oil Cooler
The surge tank intake piping has a one-off modification. Being now shorter, the vehicle has a better response and the car is faster.
Kamiishi (a PDI JDM mechanic at Toprank) was interviewed about this R34 GTT, and he will explain more about the specificities and upgrades that were done to this engine.
By the way, he owns a Bayside blue skyline R34 GTT for 7 years,

For more information about the car and purchase click on the following link.