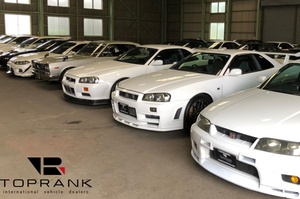 Where is the storage ?
The storage at Toprank, it is located in Chiba, very close to Tokyo, at Toprank's PDI Center. You can choose to do storage inside in a warehouse or outside. Prices would depend on the duration and type of storage.
The warehouse is located right next to our workshop where we inspect, upgrade and service our cars and our customer's cars.
The outside storage, the car is protected under a roof, but this type of storage would be more suitable for short term storage, less than 6 months.
Who stores the car ?
There would be two types of customers, the first would be to hold the car for some personal reasons or having the maintenance done and deliver it a few months later.

The second type of customer is storing cars in Japan because they are not able to import the car right now. (delivery Import used country regulations, example 25 years old regulation in the USA)
What car do you store ?
We store any cars that you buy from us in Japan.
We are now storing R34 GT-R, R33's, JZA80 Supra etc. They buy before market price increase and the other reason for storing a car would be to hold the car until it is legal for import or that it becomes a classic car in some country to save money on the import tax. (example cars with 30 years old or more)
Why should I use Toprank storage service ?
TOPRANK is one of the leading edge car dealers in Japan, export vehicles including JDM globally. But also we have some high-end vehicle showroom for Japanese customers, offering a full care car service with maintenance facilities, insurance plans, trade in service etc… You can have confidence that the company will not disappear in the next 5 years. We are a solid company established almost 20 years ago in Japan.
We look after your car, the vehicle is stored next to our JDM maintenance workshop right under our eyes. We will idle the car monthly and inspect the car once again before shipping the car, all of this included in the storage price.

When do I have to pay for storage ?
The storage can be paid once a year or in one time.

How do I get started ?
Contact us by email at
trade@toprank.jp
or on our SNS Facebook or Instagram by DM.
You can store a car bought from our stock, auction service and even from a back order.
Find your dream car in our inventory :
https://bit.ly/3agdUGU

Or contact us with your request, and we will source it for you :
Model:
Years:
Color:
Mileage :
Budget: