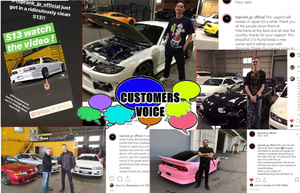 TOPRANK is one of leading car-dealers in Japan. TOPRANK proudly introduce high quality vehicles and ships them worldwide. We'd like to take this opportunity to thank all our customers, we greatly value your trust and confidence to us.
When you are looking for JDM cars and importing it, you may face difficulties. But now, you do not need to worry about anything, we are here to support you from selecting to delivering the car. In addition, we are providing the reception service for customers in U.S.A.
Toprank always focuses on the car quality and will provide you premium customer service and provides the best JDM cars for sale in Japan.

Daniel : Nissan Skyline R32 GTR for sale.
We loved working with Daniel from Tokyo prestige in Australia. We sent him two nice Nissan Skyline R32 GT-R.

Cory : Nissan Silvia S15 for sale.
Cory is working in Japan and bought a very clean S15 from us. We are still in contact with him. A happy customer is our best reward !
Todd : Nissan Skyline R32 GTST for sale.
The car was bought from Japan and imported by Toprank International Vehicle Importers in California. We met Todd at the 2019 R'S meeting, we were very happy to hear his feedback about his buying experience from Toprank. Every JDM car for sale at Toprank are fully inspected, so we can pride our self to never sell a lemon car.
Telstarlogistics :
"FWIW, I visited TopRank's export prep facility 2 weeks ago, north of Japan. It's just down the street from an auction house, and it's where all their US-bound cars go prior to export.
It's a cool place, in terms of the inventory, but to address your specific question: What's *really* cool is that they give every car a thorough mechanical check and replace a lot of common wear-and-tear items — such as suspension bushings — before putting the car on a boat to North America. (There was an R32 GTR on the lift while I was there.) All of which is to say, there are some very real advantages to going through an established importer.
(Disclosure: I bought my own car from Toprank 18 months ago; I visited their facility because I wanted to retrace the route it took to get to me. )"
Joseph : Nissan Skyline R32 GTR for sale.
Joe was looking to buy another R32 GT-R that was listed, but we sold the car before he could send a deposit. However, we just got a very similar car that he bought this time even before we listed it to our homepage. We performed the full maintenance and changed the tires for him. The car was stored in our warehouse for a later shipment to fit his agenda. His project for this car is to put a single turbo and get over 600HP.

Skatingjoe87 :
"Awesome service from top to bottom. If you get the pleasure of working with Alex on buying a car from Toprank, it's the easiest process I've ever had buying a car :)"

Kenny : Nissan Silvia S14 for sale.
Kenny came to us for this beautiful S14. We will prepare the car for the Japanese shaken/JCI, the compulsory vehicle inspection that ensures all vehicles on the road are properly maintained and safe to drive. The car will be registered, and then we will deliver it directly in front of his house in Okinawa. For sales in Japan, Toprank can provide a full service for registration, vehicle inspection, maintenance and delivery.

Kennymunsinger :
"Cannot wait!! It's been a pleasure doing business with y'all!!
"100% recommend buying through them if you are thinking about importing!"
Niko : Nissan 180SX for sale
Niko, a friend of Cory contacted us for this unique 180SX in pink. Living in Japan he came directly to our warehouse to see the car by himself, and as expected for this awesome nobody could resist it after driving it.

James : Mazda RX-7 for sale.
James saw this clean Rx7 fall in love immediately with the car and bought it. Please welcome him to the Mazda rotary club.
Jr_benzel :
"@toprank_jp_official you and everyone else in that shop are amazing to work with and get everything done in time. If you want a great looking, running and eye-catching car then go to this man. He will work out everything for you to meet your standards and concerns. One of the best people I have done business with and will probably be back for another car or two"
If you want to share your experience of importing your JDM car from Japan, email us at trade@toprank.jp with your story and the car you bought from us.