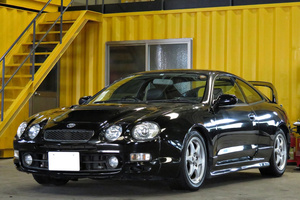 The Toyota Celica GT-Four is a high performance model of the Celica Liftback, with a turbocharged 3S-GTE engine, and full-time AWD. It was created to compete in the World Rally Championship with one of the most ingenious turbo design.
We have in stock a beautiful ST205 Celica GT-Four with WRC style bonnet and rear wing. The body is in excellent condition with its original black paint.
The interior is in mint condition, and with the genuine steering wheel. You still have the driver airbag for your safety. There is also an aftermarket TV, radio, GPS and back camera giving you the comfort and entertainment of a modern car in a JDM legend.
If you want to get this Celica with the 3SGTE Turbo engine, we are shipping worldwide, and we can offer you quality storage solutions for a reasonable price.