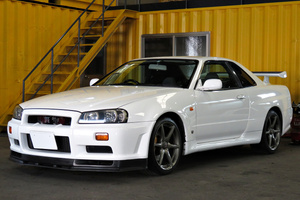 The Nissan Skyline R34 GT-R V-SPEC ("V" stands for Victory) comes with the ATTESA E-TS Pro system and an Active LSD for rear wheels. The V-SPEC has front and side splitters, as well as a rear carbon fibre air diffuser.

The R34 GT-R has the famous RB26DETT engine with its twin turbo. The engine has already shown its qualities with the R32 and R33 GT-R.
The aerodynamics is one of the major changes from the previous generation. When the R33 already reduced the front lift coefficient of the R32 GT-R. The R34 GT-R with the rear spoiler untouched drastically reduced the front lift coefficient, the downforce was increased thanks to the front undertray and a rear diffuser.
Another change of the R34 GT-R is the new transmission system, Getrag V160, 6 speeds close-ratio manual transmission was installed. So you will enjoy acceleration without losing torque.
We have here Xenon light and aftermarket front diffuser. This car has an QM1 original white paint.
The meter cluster was replaced with the Nismo showing up to 320km/h
The mileage is verified at 109,053 km in total. The timing belt is almost unused, it was changed at 102,500km.
The beautiful alloy wheels is letting you see Brembo big front calipers just behind it.
The interior is clean and neat. The central arm rest has a beautiful red stitching on it.
We are offering a great storage service to anyone that want or cannot have their cars shipped right away.
This R34 GT-R V-SPEC is ready for shipping worldwide.
For more detail >> Click here
Please feel free to contact us
Email trade@toprank.jp
See Contact detail >> Click here
See Our team & various contact method >> Click here