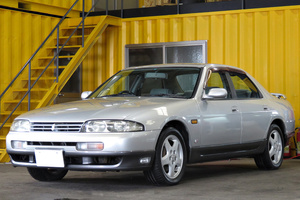 Nissan produced the Skyline R33 GTS25T from 1993 to 1998. The R33 GTS25T has a coupe or a sedan body type, with manual or automatic transmission.
The engine is the famous RB25DET capable to deliver 250HP.
The R33 GTS25T was designed with comfort in mind while enjoying the drive on long distance.
The interior of the GTS25T Type M sedan is spacious and safe.
The R33 GTS has three different engine, giving the Skyline "Evolutionary performance". The GTS25T Type M is equipped with the most powerful of those engine, the RB25DET with the automatic transmission has 245HP and with manual transmission 250HP. The turbo will give you the boost sensation on your acceleration.
The comfort and drive performance are supported by Nissan technology. Introducing Super HICAS on the Skyline R33.
HICAS, High Capacity Actively Controlled Steering, is a four wheel steering system improving the handling of the car in the curves.
The rear wheels are turning according to the speed of the car.
With the Super HICAS, the steering system is using electric actuator making the system lighter than the HICAS that is using a hydraulic system.
The R33 GTS25T Type M is a safe car to drive around. The brakes have 4 pot calipers giving the car better brake performance hence safety on the road.
The car is also equipped with ABS, which prevents the wheels from locking up during braking and keep control of your car.
The car body has been reinforced in strategic areas to improve the safety of every passenger. Moreover the seat belt system is highly adjustable improving the comfort of their users.
The R33 GTS25T Type M is a great daily and performance car. With the sedan version you will get a different style and more interior space.
We have right now in stock a beautiful R33 GTS25T Type M Sedan, with 94,730 km.
The car only had one owner. With all the maintenance records that we have for this car, we can only guess that the car was loved and well taken care of.
The car is completely stock, the body is in excellent condition and the under body is very clean and rust free.
Follow this link to check the 1995 Nissan Skyline GTS25T Type M Sedan.
https://toprankglobal.jp/stockdetail/14774
Please feel free to contact us
Email trade@toprank.jp
See Contact detail >> Click here
See Our team & various contact method >>
Click here