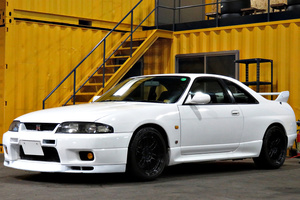 The R33 GTR has inherited from the R32 GTR, but has also its own innovation.
The R33 GTR kept the powerful engine RB26DETT.
But since the R33 GTR aimed to compete at different competitions than the previous model, facing different rules and challenges. This would allow some changes to the R33 GTR.
The spoiler in the back of the R33 GTR is larger than the R32 GTR. Moreover, the entire wing is adjustable.
The most noticeable change would be the aero of the R33 GTR, minimizing the front lift of the car. There are larger openings in the front bumper and the lip spoiler was optimized to get better wake separation of the air.
And with different internal changes such as moving the battery to the trunk, the R33 GTR were able to improve the F/R weight distribution.
The brakes on the R33 GTR are the Brembo brakes carried over from the R32 GTR V SPEC.
Every improvement from the R32 GTR to the R33 GTR came to fruition at Nürburgring, where the R33 GTR completed the circuit 21 seconds faster than the R32 GTR by the famous test driver from Nissan, Hiroyoshi Kato.
Hiroyoshi Kato was assigned to the R33 development team where he made his own dream come true by developing cars that brings joy to everyone.
We have a very nice R33 GTR with 302 HP, this car will give you great performance and is a comfortable ride for your daily and with your family.
This R33 GTR is ready for shipping worldwide. If you are in the US, we can offer you quality storage solutions for a reasonable price.
For more detail >> Click here
Please feel free to contact us
Email trade@toprank.jp
See Contact detail >> Click here
See Our team & various contact method >> Click here