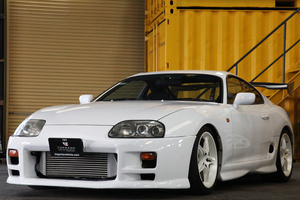 The well-know and still popular 1993 TOYOTA JZA80 SUPRA is available in our stock now.
This SUPRA was fully redesigned in 1993 with the 3.0L Inline-six engine and even many years have already passed since its date of manufacture, it is still loved among sporty drive freaks over the world.
In order to reach the best balance possible, the car was upgraded with the intake and exhaust system, the suspension and many other functions, that gives this SUPRA especially high-performance.
We have upgraded this amazing SUPRA by replacing its original powerful 2JZ-GTE type computer with the APEX FC Commander ECU and also by equipping it with the larger diameter turbo "GReddy Turbocharger T78-33D", the "SaRD Fuel Delivery Kit" and "GReddy Surge Tank" that significantly improve the combustion efficiency.
Furthermore, thanks to the modified HKS Height Adjustable Coil-over that is responsible for stability while driving, the improved rigidity of the rear member and the "BRIDE Full Bucket Seat" hold your body securely at lower position, and you can esily enjoy a comfortable and joyful drive anytime.
Its sporty exterior body is completed with its GT-Rear Wing, and its AVS18 Five Spoke Alloy Wheels that fit perfectly with its white body. Its strong and beautiful sporty body was recovered by our professional mechanics and completes this special 1993 TOYOTA SUPRA JZA80.
Don't miss the opportunity to try this completed and tuned SUPRA!
Please feel free to contact us
 See our team & various contact method >>
Click Here