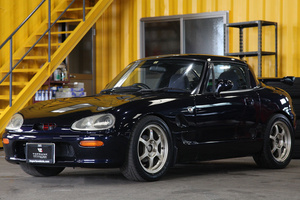 The 1993 Suzuki CAPPUCCINO, the most compact convertible sport car in the world, is now available in our stock.
CAPPUCCINO was debuted in 1991 and its name comes from the diminutive cup of caffeinated coffee beverage, cappuccino, which resembles this compact Suzuki Cappuccino.
This week we want to introduce you the "Cappuccino Limited" 1993 Special Specification, one of the cars which impressed everybody in the world with its limited and exclusive body color of Deep Blue Pearl.
This CAPPUCCINO will let you enjoy different ways of driving thanks to its split-style roof which can be opened in three ways: T-Bar, Targa Top and Full Open. Even thought it is a small car, it has spacious luggage space which can easily store the removed roofs.
The engine, which was placed in the front midship, is eqquiped with and intercooler turbo with small exhaust volume of 660cc and the highest 64 horsepower, which was ever recorded in the same size models.
This compact and perfectly designed body, looks very cool thanks to the large rear spoiler and the SSR 15" alloy wheels, and its interior is also very well upgraded with MOMO steering wheel and MOGG shift knob.
Our skilled mechanics also did a neat, precise and professional work on the body to recover its beautiful Deep Blue Pearl Color.
Do no you want to be the next driver of this amazing lightweight convertible sport car?
Please feel free to contact us:
See our team & various contact options >>
Click Here