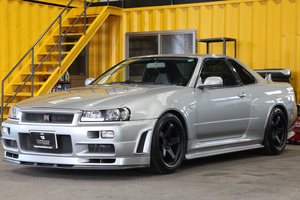 One of the best Japanese sport cars, 1999 Nissan SKYLINE GT-R V-Spec is availabe in our stock now.
This "SKYLINE GT-R" or "BNR34" was produced as the last GT-R with the name "SKYLINE" in the history.
Even though sixteen years passes since its last manufacture date in 2002, it still remains one of the most popular and beloved vehicle among sporty drive freaks for its high-performance.
Moreover, this BNR34 was equipped with NISMO CPU Sports Resetting which significantly improved the overall performance, while its turbo engine "RB26DETT" and the NISMO muffler enhanced the work of air-intake and exhaust system.
Thanks to the BREMBO brake caliper with unbelievably strong braking power, the GT-R combined the best balance of power and braking ever possible.
Its sporty design is completed thanks to NISMO aero package and the combination of wheels and tyres in a limited edition, namely, model NISMO 18" LMGT Aluminum Road Wheel-Black matte edition, which give it a luxury look.
This car is in a great condition and had only one owner.
Its interior is carefully designed using accessories by NISMO such as, meter panel, floor mat, shift-knob and so on, which complete this attractive and amazing car.
You can enjoy comfortable and joyful drive not only around the city, but also for longer distances.
Do not miss the opportunity to be another fan of this amazing "BNR34 Skyline GT-R V-Spec"!
Please feel free to contact us
See our team & various contact methods >>
Click Here