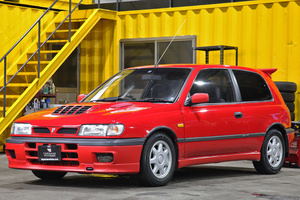 The well-know and still popular NISSAN PULSAR GTI-R is available in our stock now.
This model, PULSAR GTI-R, was produced as the 4th Generation by Nissan in order to win the World Rally Championship (WRC).
This compact and perfectly designed body, with the gross vehicle weight of 1220 kg, is not only much lighter than other all-wheel drive (AWD) vehicles, but also has the wheelbase of 2,400 mm, and super powerful engine!
As you can see, it still has its fabulous glowing red color thanks to the neat and precise work by our skilled mechanics which attracts car enthusiasts all over the globe.
Three doors, large power bulge on its hood to improve ingine air-intake, and the rear spoiler complete this truly amazing design.
It is hard to imagine but PULSAR's compact body is equipped with the SR20DET, 2.0L turbo engine which is exactly the same as the one Nissan SILVA has!
Moreover, its sporty interior is completed by the NARDI steering wheel which can let you enjoy an agile drive, while the installed BLITZ Turbo Timer protects its turbo engine.
Thanks to its powerful engine, N14 PULSAR GTI-R has everything you need for an unforgettable joyful drive!
Don't miss the opportunity to be its next lucky driver!
Please feel free to contact us!
See our Team & varios contact methos >>
Click Here