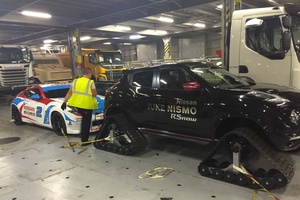 There are two different types of shipment for JDM cars from Japan, RoRo and container. Toprank ships JDM cars from Japan to the USA, Australia, France, Germany, Canada, New Zealand, Uganda, and many other countries.
To ship, we need to bring the car to the yard(bonded area) to pass customs clearance and wait for the next ship to be loaded on, while we prepare all the export documents for you. A few pictures of the car will be taken at the yard.
RoRo Shipment:
The first shipment type and also the most commonly used is RoRo, which stands for Roll-on Roll-off. Sometimes it is called a Pure Car Carrier(PCC).
As the name says, the car will be driven on a special ship that can contain over 6,000 cars. It is a common car shipping method that is also used by car manufacturers such as Toyota and Nissan to deliver cars all around the world. RoRo ships go to multiple ports to load and unload cars on the way. You see RoRo ships once or twice a month, priority is given to new cars from the carmakers. The shipping time can be from 3 weeks to 2 months depending on your location.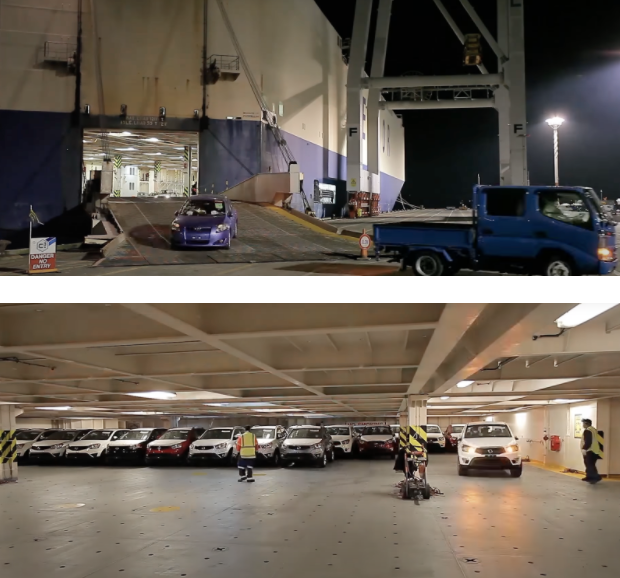 RoRo shipment also has strict rules for loose cargo. It is mostly forbidden to have any extra parts inside the car or the trunk.
Cars are driven on and off the ship using ramps. Therefore, the car must have a ground clearance of at least 14 cm to avoid any damage to the car. It is possible to load cars using a bolster, but it will come with additional cost.
Since the cars are driven and parked in the yard, it is recommended to add extra insurance on the car shipping. We can apply for you for an external marine insurance company.
https://toprankglobal.jp/marine/
The insurance type A will cover any damage to the car during the transportation. The insurance cost depends on the total invoice price, as of today in 2021, you would pay around 20,000 JPY for a 4,000,000 JPY invoice.
Container shipment:
Shipping a car by container is also possible, but more expensive than RoRo.
Most containers can be shipped out weekly, the delivery frequency is much higher than RoRo. It is also possible to leave spare parts and other items in the car. And you can also secure other items in the container next to the car.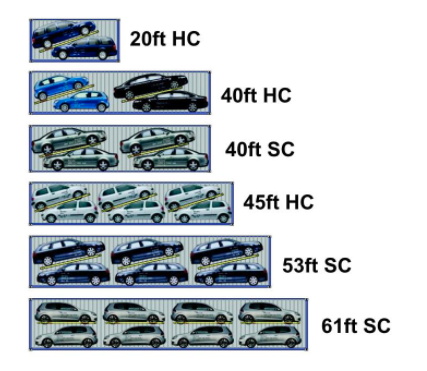 We recommend putting only one car in a 20ft container, but the arrangement would depend on the car's size and their value.
We are able to book 20ft and 40ft containers.
Container shipping seems to be the best option when buying multiple cars. When the vanning of the cars is complicated for loading, it will also be complicated to unload the cars, so you might have additional cost at the destination port. Ocean freight is also more expensive than RoRo. Container costs have risen dramatically during the pandemic. Port congestion is also up dramatically. Please contact us for current coats and time frames for shipping.
Toprank Global is your international vehicle dealer for importing and exporting cars. Toprank based in Japan will locate and ship your dream car from and to anywhere in the world. Local laws vary, please contact us for more information. Call Toprank Global at (+81) 3-6222-8388 or
trade@toprank.jp
Find your dream vehicle
If you are military stationed in Japan at Okinawa, Iwakuni, Yokosuka, Atsugi, Sasebo, or other base we can deliver a car with Y plates, JCI completed, and registered ready to be driven on Japanese roads. Do you need a loan from Navy Federal Credit Union, or Penfed Credit Union? We can have the vehicles appraised by a third party inspector.
Storage is available for customers in the USA that purchase vehicles not yet 25 years old. http://toprankjdm.com/storage Toprank Global can store your JDM car inside or outside our warehouse just 40 km from Tokyo at our secure and safe location. Please contact us for more information, pricing, and maintenance options available.
If you live in a part of the world, where you don't have to wait until vehicles are 25 years old to import, such as Germany, France, Ireland, England, Australia, New Zealand, Hong Kong, or Canada, Toprank can ship a vehicle to you in your country. If you are wondering if you can import a used JDM car, we can help you navigate this process. From inspection and purchase, cleaning, shipping, customs clearance, we can simplify the process for you. For more information, email us at : trade@toprank.jp
Toprank has experience selling cars like the Nissan Skyline R32 GTR, Skyline R33 GTR, Skyline R34 GTR Vspec, Nissan Silvia S13, S14, S15 Spec R, Honda Integra Type R, Civic Type R, Nissan Stagea 260RS, and Toyota JZX100 Chaser Tourer V worldwide.