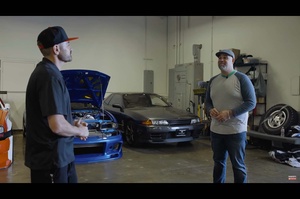 Matt Farah interviewed Sean Morris at our Toprank facility in California. Learn more about the Skyline history and why the Skyline is the best tuner car and the leader of the Japanese 90s sports car.
500 horsepower is the sweet spot for a Skyline GT-R according to Sean. The aftermarket support is huge in Japan, enough to make every GT-R have a unique build.
You can see cars in our shop, Skyline R32 and R33 GT-R. Have a look at Yaska's car, an R32 GT-R painted in midnight purple with S1 engine from Nismo. A Saurus R32 GT-R, R34 GT-R race car, and a white pearl Honda NSX (3 or 4 cars in the world) which is a pretty rare color.
Buying a Skyline GT-R from Japan, be it R32, R33 or R34, you will not regret it. Plenty of parts to make your own Skyline, and the drive experience will satisfy you even from its stock form.
You can find Skyline GT-R for sale in our inventory and also request us to get one for you from our back order service. Buy your Skyline GT-R with Toprank from Japan, color, mileage and condition that will match your needs and budget.
Find your dream vehicle
If you are military stationed in Japan at Okinawa, Iwakuni, Yokosuka, Atsugi, Sasebo, or other base we can deliver a car with Y plates, JCI completed, and registered ready to be driven on Japanese roads. Do you need a loan from Navy Federal Credit Union, or Penfed Credit Union? We can have the vehicles appraised by a third party inspector.
Storage is available for customers in the USA that purchase vehicles not yet 25 years old. http://toprankjdm.com/storage Toprank Global can store your JDM car inside or outside our warehouse just 40 km from Tokyo at our secure and safe location. Please contact us for more information, pricing, and maintenance options available.
If you live in a part of the world, where you don't have to wait until vehicles are 25 years old to import, such as Germany, France, Ireland, England, Australia, New Zealand, Hong Kong, or Canada, Toprank can ship a vehicle to you in your country. If you are wondering if you can import a used JDM car, we can help you navigate this process. From inspection and purchase, cleaning, shipping, customs clearance, we can simplify the process for you. For more information, email us at : trade@toprank.jp
Toprank has experience selling cars like the Nissan Skyline R32 GTR, Skyline R33 GTR, Skyline R34 GTR Vspec, Nissan Silvia S13, S14, S15 Spec R, Honda Integra Type R, Civic Type R, Nissan Stagea 260RS, and Toyota JZX100 Chaser Tourer V worldwide.