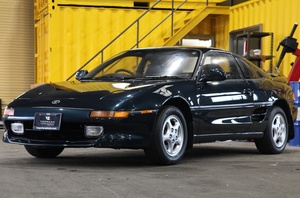 1991 Toyota MR2 GT, one of the drivers' beloved vehicle is now available at TOPRANK.
Our skilled bodywork engineers removed all exterior parts (door-moldings, door-protectors, etc), repaired them and painted the car's full body, therefore, the MR2 looks new and superb yet it still remains the original shape.
We have replaced the MR2's alternator with a new one to prevent troubles in the car's electrical system, which often occurred in the old cars.
In addition to the modifications mentioned above, preventive maintenance and the replacement of oil, fluid and belts have been done, so that the MR2 is ready to take you on a safe and enjoyable journey.
Thanks to its lightweight sporty body with midship layout, in particular, less than 1,300 kg of body and 2,000cc engine, your MR2 will give you an exciting experience and you will love the high performance, especially, during cornering!
Please feel free to contact us by e-mail or see various contact method >> Click Here
Find more detail >> Click Here