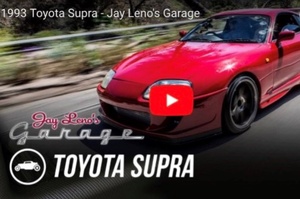 Here below is the Jay Leno's Garage episode!
The well-known and one of Paul's Walker favorite 1993 TOYOTA SUPRA is available at TOPRANK stock.
Cody Walker, the youngest brother of the late Paul Walker, and the comedian Jay Leno are featuring the 1993 Toyota Supra which we, TOPRANK Team, had completed and exported to USA on his latest episode of his Jay Leno's Garage series on YouTube.
Jay Leno and Cody Walker talking about Paul Walker and his love for cars.
Jay, along with Cody Walker, pays tribute to "The Fast and the Furious" star Paul Walker with one of his favorite JDM cars.
Please feel free to contact us by

e-mail

or see various contact method >>

Click Here